About Hydroponics and more
The Best Exotic Vegetables Stores - Your Guide to Shopping for Food
by Chandan Varshney on Nov 30, 2021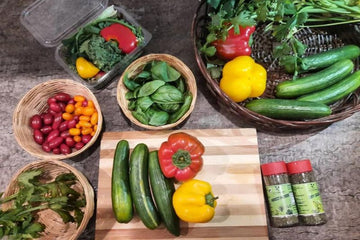 Greens are not only great for our planet but also these are absolutely a blessing for our health! So the faster you realize the importance of green, the better you will be able to start living a healthy life. With the range of online stores available in the market, it will no more become hard for you to choose the Organic Exotic Vegetables Shop in Delhi NCR
Since this is extremely important as it is closely related to the health of your entire family, you require making use of the quality of vegetables. When you search with the exotic vegetables stores near me, you will definitely find endless choices available on the internet, but in order to make sure that you are making a correct choice, you have to be very precise.
If you are new to choosing a good vegetable store in the area, then you will find this blog extremely helpful to make the right choice. So without any further ado, let us check in detail about the things to consider when choosing a vegetable store.
Check the process of farming:
The first thing that you require checking is looking for the farming process that the brand is following. Since you have to be very choosy when it comes to veggies as it will go inside your body, understanding the process of farming can be largely valuable. Traditional process is widely known but there are definitely some harsh truths that come with it, if you can find a better process, it can be good for your family's health.
Hydroponics is one of the recent farming technologies used by many people where farming is done using nutritious water rather than soil. Since plant roots tend to dig deeper and deeper to get nutrition, with hydroponics, they can acquire the nutrition that they need to grow and give veggies and fruits. It is always better to choose a process that makes the least use of harmful chemicals.
Chemicals used in the process:
As we have already discussed, it is better to choose a store that does not have use of chemicals. However, when it is the traditional farming method, we all know that it will use chemicals to grow and produce fruits and veggies. Pesticides and insecticides are some of the most common names that are spread in the farms for the growth of plants and destroy the insects and pests. However, the sad part is when ingested, it can cause harm to our health.
Hydroponics is the name of a process that does not need to use pesticides or insecticides. This process does not use soil but water with great nutritious value. Plants tend to absorb nutrition from water and grow at a good pace.
Types of vegetables they offer:
You also need to make sure that you are checking about the range of vegetables that they have in their store. You must make sure that they work with a wide variety from exotic veggies to foods that ensure you maintain the keto diet. You have to make sure about their offering because it will provide you with the knowledge that they know the way to grow veggies and in a way that it can be beneficial for your health.
When you find that the store offers a wide range of vegetables, you can stay assured that they are knowledgeable. They actually know the basics of farming and can be valuable to ensure you offer the best for your needs.
Reputation they hold:
This is again important when you choose a Organic Exotic Vegetables Shop in Delhi NCR. Since there are many who claim to become the best, only a few are able to manage to be on top with the services or products they offer. You must check the reviews and ratings offered by the customers as it provides an insight of their services and products. However, always keep in mind that there are some exceptions as well.
Some of the newly budding stores who are opting for a completely new process of farming must be given a chance. You can try them and check on yourself as they can become a great choice.
Bottom line: These are some of the most common things that you require checking. However if you are in search of an organic chemical-free exotic vegetables shop in Delhi NCR, OnlyHydroponics can be apt for your needs.